Stereo Tool

2.05
(c) Hans van Zutphen @ NETHERLANDS
DD: Aug 2005 - Englisch - Installer & Standalone & VST & CMD Versionen - Donation Freeware & Shareware Versionen
OS: Alle Windows | NEU 2010: Linux
HP:
http://www.stereotool.com
DL:
http://www.stereotool.com/download
SS:
http://www.stereotool.com/download/st401.png
(alt v4.x)
SS:
http://www.stereotool.com/download/st_95perc.gif
(alt)
CL:
http://www.stereotool.com/version_history.shtml
HOWTO:
http://help.stereotool.com
FORUM:
http://forums.stereotool.com
WinAMP (EFB-Suche)
DSP_Plugin (nun auch als Standalone- und Kommandozeilen Programm!) für Soundoptimierungen.
Bereits die Freeware Versionen bieten Kompressor, In + Out Limiter, Equalizer, Anti-Clipping,
Stereoverbreiterung, Low + High Pass etc.
Zudem besteht die Möglichkeit schlechte Tonband Aufnahmequalitäten durch Azimuth
Korrektur - (= Tonkopf-Spurwinkelfehler bzw. Zeitversatz zwischen Stereokanälen ausgleichen)
- zu restaurieren.
FREE VERSION
Noise gate √
FM hiss remover √
Automatic Gain Control (AGC) √
Phasing error (AZIMUTH) correction √
Stereo enhancement √
10-bands compressor/limiter √
10-bands clipper √
10-bands equalizer √
Bass booster √
Lowpass and highpass filter √
Final limiter √

Extra loudness trial ¹
FM pre-emphasis trial ¹
FM stereo encoding trial ¹
FM RDS encoding trial ¹
Change settings from ext. scripts trial ¹

¹ If these features are enabled on the free (non-registered) version, a message ('This sound is processed by Stereo Tool') is played once every 12 hours - if both FM processing and Loudness are used every 4 hours. This should not interfere with most non-commercial usage.

¹ Although most options of Stereo Tool are free, some options that enable FM radio stations to sound louder than their competitors, as well as some options that enable broadcasting in stereo and adding RDS texts to the broadcast without using extra hardware are limited in the free version of Stereo Tool.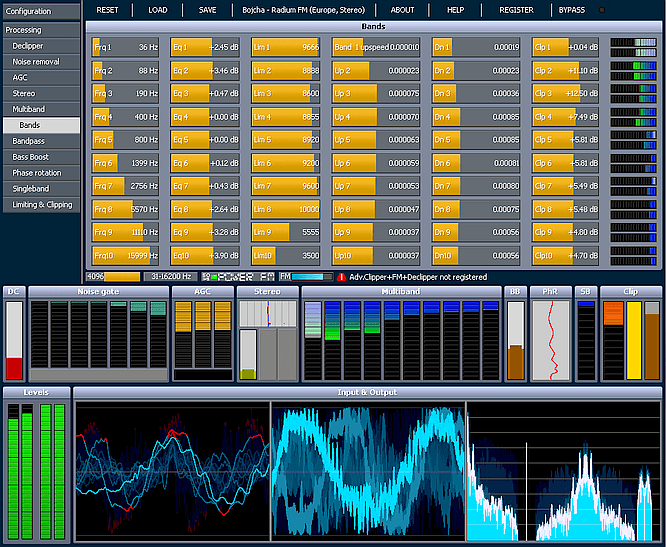 Winamp plug-in version
Intended for Winamp, SAM Broadcaster, RadioBOSS and other applications that support Winamp DSP plug-ins.

Stand alone version
Sound card input to sound card output. Intended mainly for FM radio stations which process external (live) feeds.

Command line version
(Not an installer - right-click and save) Processes .WAV or raw PCM data.

Linux command line version
Linux command line GUI version
Same as the command line version, but for Linux.
Command line version for Linux with GUI.

VST plugin
Note: The VST plugin version of Stereo Tool is not free.
TIPPS + LINKS:
Wer (dieses oder andere) dsp Plugins kombinieren möchte, kann dazu den
Multiple-DSP Stacker
verwenden
http://classic.winamp.com/plugins/details.php?id=128742
LineIn plugin for Winamp 2/5
(für Direktüberspielung)
http://home.hccnet.nl/th.v.d.gronde/dev ... index.html
File Writer output plugin for Winamp 2/5
(für Direktaufnahme)
http://home.hccnet.nl/th.v.d.gronde/dev ... index.html
Ein weiteres Winamp Plugin zur Klangrestaurierung vom selben Autor ist
Tape Restore Live (EFB-Suche)
suchen finden tags keywords :::> dadada Mono Stereo klangregelung klangoptimierung klangrestaurierung klangrestauration spurwinkelgeometrie
restoration time shift azimuth phasenkorrektur timeshifting fehler dumpfer klang musiccassetten tonbänder tonmbandaufnahmen